What is a Cumulative Flow Diagram?
Visualizing your software development process with a 'task board' open to everyone's access is an important step for transparency. It is very strong feedback to see the current jobs and progress easily when you look at this board. However, the process always continues and the state of jobs changes day by day. It may not be possible to see the dynamism in this flow on a task board that is relatively static. At this point, the team can use the Cumulative Flow Diagram (CFD), which contains information that helps the team follow this dynamism more clearly and foresee the future.
Cumulative Flow Diagram is a very simple but informative chart that shows what is happening in your project. It shows how much work has been done so far in the activities of the process you are monitoring. In other words, it shows how much work is waiting in your backlog, the work in progress and how much work has been done. It helps you see the delivery rate and speed of progress. The chart is cumulative; it is drawn by adding up the value of each day and showing the total value. With this chart, you can have information about the progress of the work, cycle time and possible end dates. When you look at the chart, you can easily identify problematic and blocked works and subjects. With this kind of feedback, you can easily realize a bottleneck in the flow and take immediate action, which will increase the productivity of the team.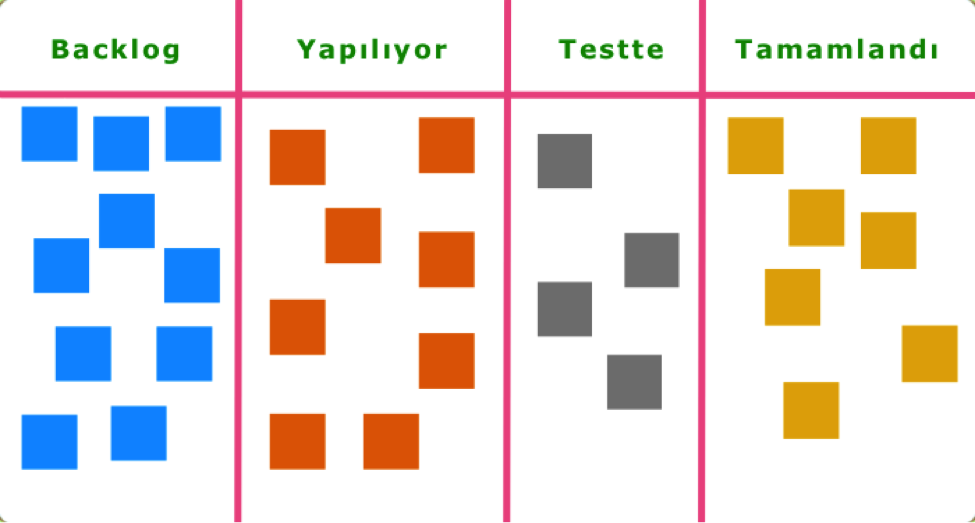 The following Cumulative Flow Diagram is a representation of the process steps of the above task board. The vertical axis of the graph shows the number of jobs and the horizontal axis shows the time.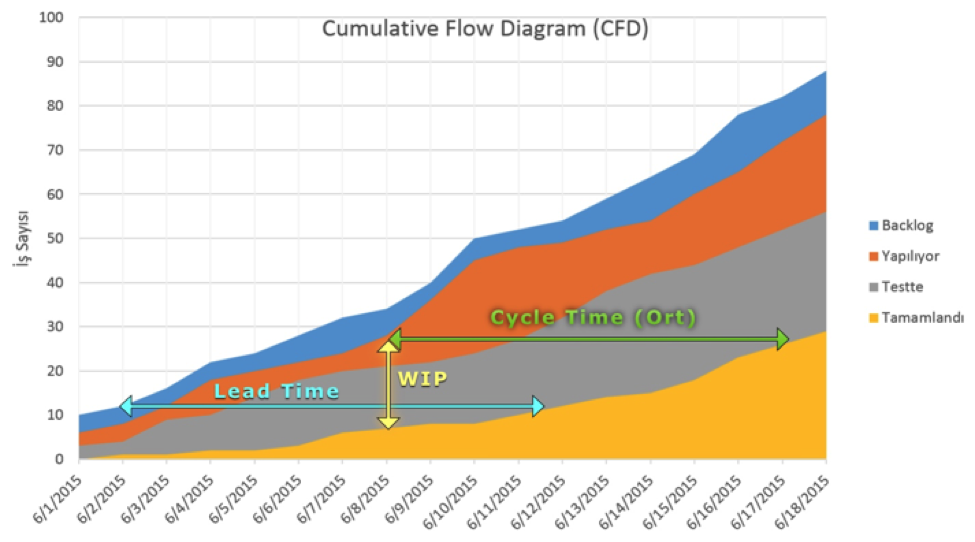 A different curve can be drawn for each step, situation, activity in the process, or each column on the 'task board'. Showing each curve with a different color makes it easier to distinguish the areas between the curves. The narrowing or widening changes between the curves allow us to compare the steps in the process. For example, the gap increases between orange and yellow lines, which indicates that despite the increase in the number of works in progress, works are not finished at the same rate and therefore there is a bottleneck in this interval. In this case, team members will need to come together and identify the root cause and take necessary actions.