This morning while driving to the office I was listening to a podcast and I came across a dialogue between a formerly project manager -now an agile coach- with a member of his team. He tells that during a meeting, while he was keeping on expressing his opinions on ongoing issues and explaining how they should be resolved, one of his teammates could not stand and bursted out!
The conversation goes like:
"Are you the smartest person in the room?"
"No, there are many bright people in this team…"
"So, please, why don't you shut up and let them speak?"
Shocking and a bit tough…right?
Many managers may not be that much fortunate (or unfortunate?) to hear such a direct and to the point feedback yet colleagues might still be feeling the same way. Lyssa Adkins coins this age-old disease as "command-and-controlism" in her marvellous book "Coaching Agile Teams". You might also have witnessed this if you have ever worked at a hierarchical organization. So the vicious circle where everyone loses trust flows this way: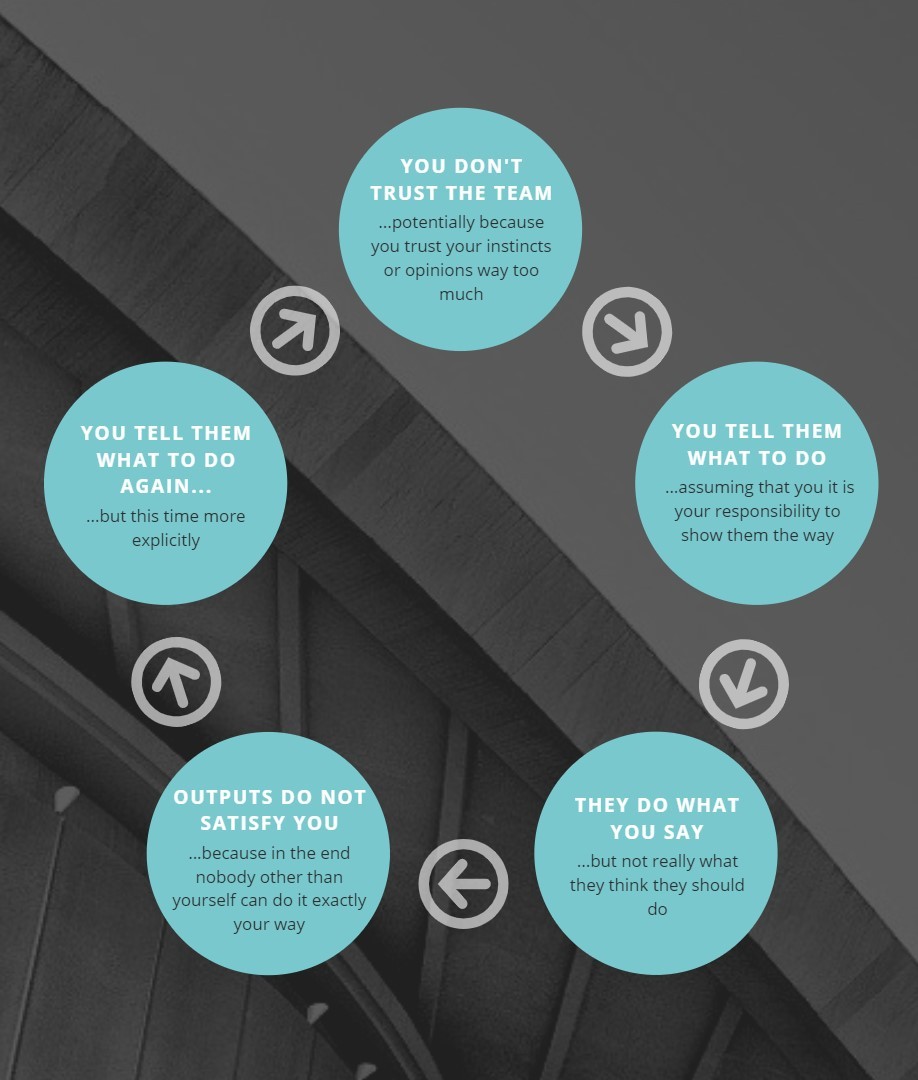 Obviously a low trust environment is not desirable. However it is a very common output of command-and-controlism. So how did command-and-controlism emerge and will it remain to be prevalent?
By early 20th century, Frederick Winslow Taylor, who was among the first management consultants, sought to improve industrial efficiency. In his famous book named the "Principles of Scientific Management" he mentions that organizational paradigm relies on:
Size (to benefit from economies of scale)
Standardization (to enable growth without losing control)
It clearly made a lot of sense in the past century. However, as a by product of ever accelerating shortening of half-life of knowledge thanks to internet revolution, validity of Taylor's hypothesis may have already expired for various industries.
At this point Tiago Garcez, an agile coach, perfectly diagnosis the underlying cause:
"While organizational leaders recognized the shift from a manufacturing economy to a knowledge economy, they failed to see that they also needed to re-think their internal structure to be successful. As a result, they simply accepted the same command & control management model without second thought. And this, in essence, is the root cause of the current friction between many change initiatives and organizational leaders – we're operating in a knowledge economy while using command & control management principles from the industrial revolution."
At the end of the day an organization is one example of human centered systems. It consists of people and behaviors of individuals make up the organizational culture. And for this reason attempting to change an organization's culture almost always fails. As culture is a product of the system you have to change the system to change people's behaviors.
Brian Søgaard, a Danish agile coach, elaborates on which approach to follow for successful organizational change:
"An organizational transformation process … is to a great extent about cultural change and effective change management. You cannot enforce a cultural change by use of a command-and-control approach, with no cost to employee satisfaction or motivation. The key to success is involving empowered stakeholders who – with the appropriate training – are engaged to collaborate to achieve an easily understood and clearly communicated purpose and goal. Thus, due to the nature of the Agile mindset, an Agile approach to the transformation process itself can be highly effective."
So if you are working in a hierarchical organization rather than a lean one do you think that the leader on top of the hierarchical pyramid is the smartest one to make all the right decisions? It may be the right time to re-consider that.
Inspired from the following references: 
FW Taylor, The Principles of Scientific Management (1911)
"Coaching Agile Teams: A Companion for ScrumMasters, Agile Coaches, and Project Managers in Transition"; Lyssa Adkins, Addison-Wesley Signature Series, 1st Edition